Around the world, more than half of all web traffic originates from a mobile device. A mobile-friendly website is no longer the end of the journey for businesses seeking to capture this audience. When you've identified a mobile app as the ideal next step for your business to take, achieving a streamlined final product that reflects well on your brand requires experience and expertise. At WebtrixPro, our 17+ years of experience and innovative in-house development model
make us one of the leading providers of business mobile app development. Capable of developing solutions aligned with a broad range of strategic business goals, from services to storefronts, we occupy the ideal position to kick-start your company's newest chapter. With our in-depth solutions, you can dive right into the development process with a fully-formed idea or explore which kind of app will work best for your needs.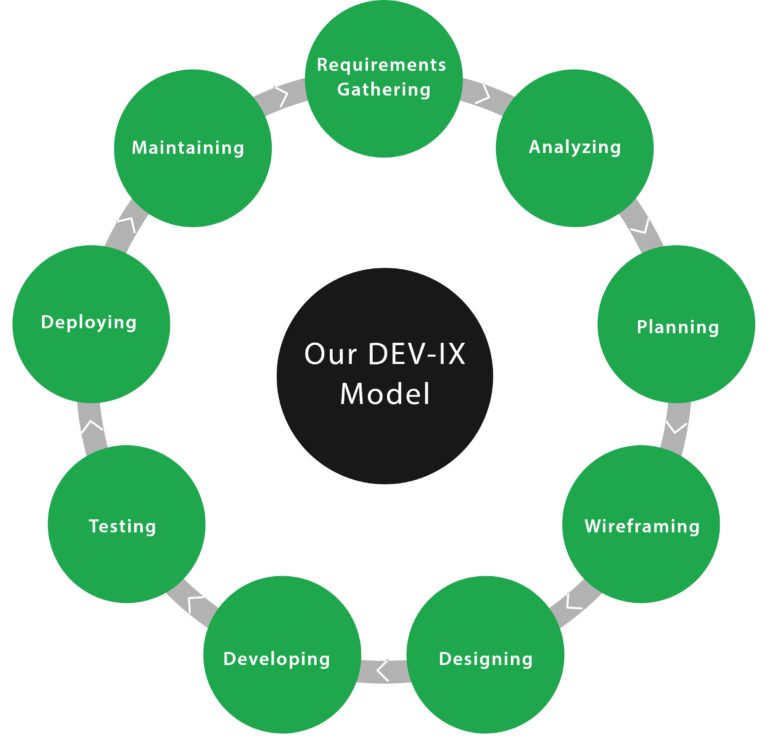 The WebtrixPro Model: DEV-IX Excellence
When you choose our team for app development, you unlock a process that ensures robust outcomes. Through years of experience and hard work, we've created the nine-step development model DEV-IX.
Through DEV-IX, we identify your strategic goals, assess opportunities for growth at each stage, and produce deliverables on time. With the skills necessary to provide both app development and software maintenance, our proven process goes beyond quick wins to help our clients realize long-term value.
Learn all about our model when you start our Discovery Process today.
Supportive Services We Provide During App Development
At WebtrixPro, we've cultivated a diverse team with extensive experience, enabling us to provide additional services to support you in creating the best apps possible. These additional services include:
Hosting & Support We're capable of ensuring that your app services have excellent uptime and around-the-clock reliability with long-term support.
UI / UX Design Let our experts assess how to structure your app to make it as user-friendly as possible, consistently providing the support experience that you expect.
Content Development Ask us how we can assist you with developing content for placement within your app or to promote the app.
Access Proven Success and Peace of Mind Today
A quality mobile app not only offers more functionality to your users but also makes an excellent brand impression when it is easy to use and reliable. With WebtrixPro developing your mobile solutions, you can count on quality results and the support that you need to operate a five-star app experience. Backed by our comprehensive, money-back guarantee, we inspire your confidence at every step.
Learn how we can assist you today when you schedule your free, no-obligation discovery call online.